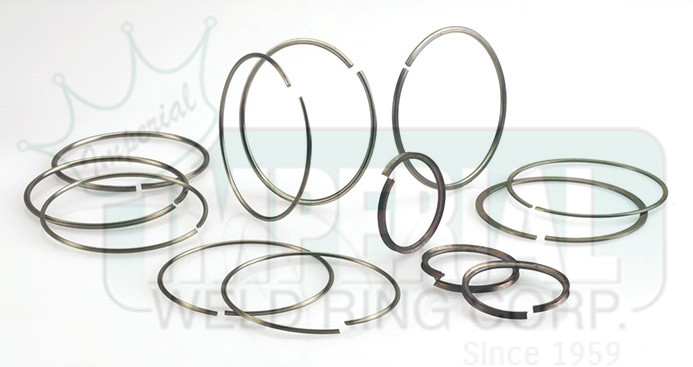 Consumable Inserts
Imperial Weld Ring manufactures consumable inserts in both standard and custom sizes and styles that meet AWS/ASME 5.30 and MIL-I-23413 standards. Class 1, Class 2, Class 3/5, and Class 4 (A, J, K, and Y shapes, respectively) as well as Imperial's custom T-shape inserts are available in aluminum, carbon steel, stainless steel, titanium, chrome-moly, Hastelloy and Inconel alloys in unlimited diameters ranging as small as ¼" to larger than 100". Imperial's consumable weld inserts ensure a full penetration root pass and seamless inside diameter (ID) weld bead that meets the requirements of the most stringent weld procedures in critical applications.
Imperial's consumable inserts increase the strength of the tube weld and provide a smooth surface on the inside of the weld joint for applications where unrestricted ID is crucial. Inserts can be used in any application where a strong, seamless joint is desired, and have successfully been used for decades. Imperial's consumable inserts commonly serve the steam generation, nuclear power, fossil fuel power generation, automotive, aerospace, OEM, off-shore oil platform, ship building/submarine, and construction industries. For more information about our welding consumable inserts, see the table below, or contact us directly.
Consumable Insert Types
Class 1, Class 2, Class 3, Class 4, and Class 5 cross-sections as specified in AWS/ASME 5.30 are stock. Imperial's Special-T inserts are manufactured to customer approved prints for each application.
Type
Cross Sections
Nominal Diameter
Dimensions
(D)
(W)
(H)
(d2)
Class 1
"A" Shape
3/32
1/8
5/32
.094 in.
.125 in.
.156 in.
.032 in.
.047 in.
.063 in.
.041 in.
.055 in.
.063 in.
-
-
-
Class 2
"J" Shape
1/8
5/32
.125 in.
.156 in.
.047 in.
.063 in.
.055 in.
.063 in.
.086 in.
.110 in.
Class 3 & Class 5
"K" Shape
1/16 X 1/8
1/16 X 3/16
1/8 X 5/32
-
-
-
.062 in.
.062 in.
.125 in.
.125 in.
.188 in.
.156 in.
-
-
-
Class 4
"Y" Shape
1/8
5/32
.165 in.
.205 in.
.078 in.
.093 in.
.140 in.
.175 in.
-
-
Custom
"T" Shape
Per Customer Requirements
* Cross sectional dimensions of all shapes above can be modified per custom requirements.
** All styles above can be supplied in coil form or individual preformed rings.
Examples of Our Work
Stock Materials Available
| | | | | |
| --- | --- | --- | --- | --- |
| MATERIAL TYPE | WELD WIRE SPECIFICATION | UNS NUMBER | AWS/ASME 5.30 CLASSIFICATION | MILITARY DESIGNATION MIL-I-23413 |
CARBON STEEL
AWS/ASME 5.18
ER70S-2
K10726
INMS-1
MIL-MS-1
ER70S-3
K11022
INMS-2
MIL-MS-2
ER70S-6
K11140
INMS-3
CHROME-MOLY
AWS/ASME 5.28
ER70S-A1
K11235
ER80S-B2
K20900
IN515
MIL-515
ER70S-B2L
K20500
ER90S-B3
K30960
IN521
MIL-521
ER80S-B3L
K30560
ER80S-B6
S50280
IN502
MIL-505
ER80S-B8
S50480
ER90S-B9
S50482
IN504
ER80S-Ni1
K11260
ER80S-Ni2
K21240
ER80S-Ni3
K31240
ER80S-D2 / ER90S-D2
K10945
ER100S-1
K10882
ER110S-1
K21015
ER120S-1
K21030
STAINLESS STEEL
AWS/ASME 5.9
ER308
S30880
IN308
MIL-308
ER308Si
S30881
ER308H
S30880
ER308L
S30883
IN308L
MIL-308L
ER308LSi
S30888
ER309
S30980
IN309
ER309L
S30983
IN309L
ER309LSi
S30988
ER310
S31080
IN310
MIL-310
ER312
S31380
IN312
MIL-312
ER316
S31680
IN316
MIL-316
ER316H
S31680
ER316L
S31683
IN316L
MIL-316L
ER316LSi
S31688
ER317
S31780
ER317L
S31783
ER318
S31980
ER320
N08021
ER320LR
N08022
ER321
S32180
ER330
N08331
ER347/348
S34780
IN348
MIL-348
ER347Si
S34788
ER383
N08028
ER385
N08904
ER409
S40900
ER409Nb
S40940
ER410
S41080
ER410NiMo
S41086
ER420
S42080
ER430
S43080
ER439
S43035
ER446LMo
S44687
ER630
S17480
ER19–10H
S30480
ER16–8–2
S16880
ER2209
S39209
ER2553
S39553
ER2594
S32750
ER33–31
R20033
ER3556
R30556
| | | | | | |
| --- | --- | --- | --- | --- | --- |
| COPPER NICKEL | AWS/ASME 5.7 | ERCuNi | C71581 | IN67 | MIL-67 |
NICKEL ALLOYS
AWS/ASME 5.14
ERNi-1
N02061
IN61
MIL-61
ERNiCu-7
N04060
IN60
MIL-60
ERNiCr-3
N06082
IN82
MIL-82
ERNiCrFe-5
N06062
IN62
MIL-62
ERNiCrFe-6
N07092
IN6A
MIL-6A
ERNiCrFe-7
N06052
IN52
ERNiCrFe-11
N06601
ERNiCrFe-12
N06025
ERNiFeCr-1
N08065
ERNiFeCr-2
N07718
ERNiMo-1
N10001
ERNiMo-2
N10003
ERNiMo-3
N10004
ERNiMo-7
N10665
ERNiCrMo-1
N06007
ERNiCrMo-2
N06002
ERNiCrMo-3
N06625
ERNiCrMo-4
N10276
ERNiCrMo-7
N06455
ERNiCrMo-8
N06975
ERNiCrMo-9
N06985
ERNiCrMo-10
N06022
ERNiCrMo-11
N06030
ERNiCrCoMo-1
N06617
ERNiCoCrSi-1
N12160
ERNiCrWMo-1
N06231
ALUMINUM
AWS/ASME 5.10
ER1100
A91100
MIL-1100
ER4043
A94043
MIL-4043
ER4047
A94047
ER5183
A95183
ER5356
A95356
MIL-5356
ER5556
A95556
BRONZE ALLOYS
AWS/AMSE 5.7
ERCu
C18980
ERCuSi-A
C65600
ERCuSn-A
C51800
ERCuAl-A1
C61000
ERCuAl-A2
C61800
ERCuNiAl
C63280
ERCuMnNiAl
C63380
TITANIUM
AWS/ASME 5.16
ERTi-1
R50100
ERTi-2
R50120
ERTi-3
R50125
ERTi-4
R50130
ERTi-5
R56400
ERTi-7
R52401
ERTi-23
R56408
Consumable Insert Capabilities
Materials (Metals)

Aluminum
Carbon Steel
Nickel Alloys
Stainless Steel
Low Alloy
Titanium
Chrome-Moly
Hastelloy
Duplex
Manufacturing Methods

Roll Forming
Turning
Milling
Cold Drawing
Production Volume

Min: 1 unit
Max: 5000 units / week
Prototype
Low Volume
High Volume
Typical Lead Times Available

Same Day Delivery Available
JIT Services Available
Additional Information
Industry Focus

Steam Generation
Nuclear / Fossil Fuel Submarine
Power Plants
Ship Building
Construction
Transportation

Off-Shore Drilling
OEM's
Automotive
Aerospace
Liquid-Gas Conversion
Filtration
Chemical Processing
Material Standards

AWS 5.30
ASME SFA-5.30
MIL-I-23413 (SHIPS)
Intended Application

Welding of:

Pipe
Tube
Fittings
Beams
Plate
Sheet
Tanks