Fabricated Custom Weld Spools for the Power Generation Industry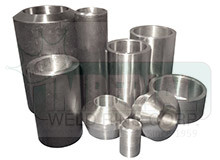 We were confronted with a tricky project. Imperial Weld Ring was asked by a power generation customer to fabricate custom dissimilar metal weld spools-low alloy ferritic steel (T22) to austentic stainless steel (304H). These transition spool sections were designed to be used as superheater boiler tube replacements and upgrades. We were also required to engineer the inner diameters of the spools to project specifications, which enabled them to achieve desired steam flow. First, we used our CNC horizontal turning centers and performed external turning, boring, and profiling of the ASME SA-213 TP347H austentic stainless steel. We then drilled, swaged, and beveled the steel before it was deburred and polished to 63Ra max, confirmed by our custom gages and surface finish comparators. We then heat and lot marked the tubing, which was done with a combination of dot peen computerized marking heads, low stress dies, and an electrochemical etcher. Our staff end prep beveled the weld spools, which were 3" to 36" long, 0.740" thick, and 2.110" in diameter, to 37-1/2°. At Imperial Weld Ring, we fabricated the weld spools to precise tolerances of ±0.002" and followed with in-process dimensional inspections as well as go/no-go gauging. We completed 800 spools in only two weeks, all to customer specifications and ASME Section IX standards, and we then delivered them to domestic and international locations.
With this project, we clearly demonstrated our ability to produce long-length, non-standard parts with tight internal tolerances, and we did it in a timely manner. To learn more about the project, or the processes used to complete it, see the table below or contact us directly.
Custom Weld Spools Project Highlights
Project Name

Weld Spools
Project Description

Superheater / Reheat Pendent Welding Tubes
Capabilities Applied/Processes

Primary:
Turning: External, Boring, Profiling
Drilling
Tubular Swaging
Pipe Beveling

Secondary:
De-Burring
Polishing
Heat / Lot Marking
Measuring and Inspecting
Equipment Used to Manufacture Part

CNC Horizontal Turning Centers
Band Saws
Custom Gages
Surface Finish Comparators
Marking

Dot Peen Computerized Marking Head
Low Stress Dies
Electrochemical Etcher
Overall Part Dimensions

Product Length: 3-36"
Product Thickness: 0.740"
Diameter: 2.110"
End Prep Beveling: 37-1/2 deg.
Tightest Tolerances

± 0.002"
Material Used

ASME SA-213 TP347H Austentic Stainless Steel
Material Finish

63Ra max
Additional Facts

Used at dissimilar metal weld (DMW) joint:
Low Alloy Ferritic Steel (T22) to Austentic Stainless Steel (304H)
In Process Testing/Inspection Performed

Dimensional
Go / No-Go Gauging
Industry for use

Power Generation
Volume

800 Spools
Delivery/Turnaround Time

2 - 3 Weeks or as Required
Delivery Location

Domestic and International
Standards Met

Customer Specifications
ASME Section IX