Fabricated Custom Metal "T" Consumable Inserts for Orbital & Thin Wall Welding Industry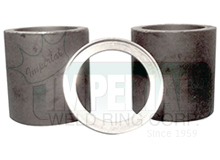 Imperial Weld Ring was recently asked to fabricate custom metal "T" consumable inserts for use with orbital and thin wall welding. We manufactured these parts from base weld wire and designed them to seat along outside diameters of tubes for the aerospace, power generation, thermal processing, and filtration industries. We fabricated them to custom sizes which allowed each weld joint to be completed in a single pass. After fusion of the wire, no subsequent filler material was required.
We cold formed, turned, milled, and ring rolled the base weld wire to tight tolerances of ±0.002" using our CNC machining centers and turret and engine lathes. We cleaned the inserts ultrasonically before they were deburred and polished to a machine finish. We then verified the inserts' integrity with both in-house manufactured and third party custom precision gauges, as well as our Scherr & Tumico 14" beam comparator. We used corrosion-resistant and temperature-resistant materials (Hastelloy, Inconel, and stainless and mild steels) for the inserts that were often employed to join thin-walled, non-ferrous tubes. We supplied these inserts as preformed rings whose cross sectional dimensions varied according to customer requirements. We were, however, subjected to some restrictions: any individual dimension within the insert's cross-section had to be held to 1/32" minimum, due to potential ring distortion and difficulties with fit-up that could have arisen with overly thin sections. We fabricated these inserts from an AutoCAD model to customer quality assurance standards, NADCAP guidelines, and ASME Boiler & Pressure Vessel Code, Section III, Division I, Subsection NCA-3800. We took only one to two weeks to deliver these inserts once the design was approved. Currently, we fabricate about 50,000 of the inserts a year and deliver them to national and international locations.
Through extensive research and development, we developed and manufactured a non-standard consumable weld insert that filled specific industry needs. To learn more, review the following table or contact Imperial Weld Ring directly.
Custom Metal "T" Consumable Inserts Project Highlights
Project Name

Custom "T" Shape Insert Ring
Project Description

Consumable weld insert with a "T" shaped profile that is manufactured to customer dimensions and eliminates the need for filler material by design.
Capabilities Applied/Processes

Primary:
Part-to-Print Manufacturing
Wire Drawing
CNC Turning
Milling
Flash Welding
Ring Rolling

Secondary:
Ultrasonic Cleaning
Precision Gauging
Inspection
Deburring
Polishing
Equipment Used to Manufacture Part

CNC Machining Centers
Turret Lathes
Engine Lathes
Scherr & Tumico 14" Beam Comparator
Custom Gauges, manufactured in house and 3rd party calibrated/certified
AutoCAD
Overall Part Dimensions

Supplied as Preformed Rings
Cross sectional dimensions vary and are per customer requirements.

Restrictions are as follows:
Max: N/A
Min: Typically 1/32" for any individual dimension within the insert's cross-section, due to the potential for ring distortion and difficulties with fit-up that may arise with overly thin sections
Tightest Tolerances

± 0.002"
Material Used

Often used for joining thin-walled, non-ferrous tubes intended for corrosion resistance or high temperatures, but may be used with any alloy including mild steel.

Typical chemical compositions supplied:

Hastelloy C-276 (AWS/SFA-5.14 ERNiCrMo-4)
Hastelloy C-22 (AWS/SFA-5.14 ENiCrMo-2)
Hastelloy "X"(AWS/SFA-5.14 ENiCrMo-10)
Inconel 625 (AWS/SFA-5.14 ERNiCrMo-3)
Inconel 718 (AWS/SFA-5.14 ERNiFeCr-2)
2205 Duplex Stainless (AWS/SFA-5.4 ER2209)
2507 Super Duplex Stainless (AWS/SFA-5.4 ER2594)
Mild Steel MS-1 (AWS/SFA-5.18 ER70S-2)
Material Finish

Machined Finish
In Process Testing/Inspection Performed

100% Visual and Dimensional Examination Inspection
Industry for Use

Aerospace, Power Generation, Thermal Processing, Filtration
Volume

Approx. 50,000 annually
Delivery/Turnaround Time

Typically 1-2 weeks after design approval
Delivery Location

National / International
Standards Met

Customer Quality Assurance Standards
NADCAP Guidelines
ASME Boiler & Pressure Vessel Code, Section III, Division I, Subsection NCA-3800