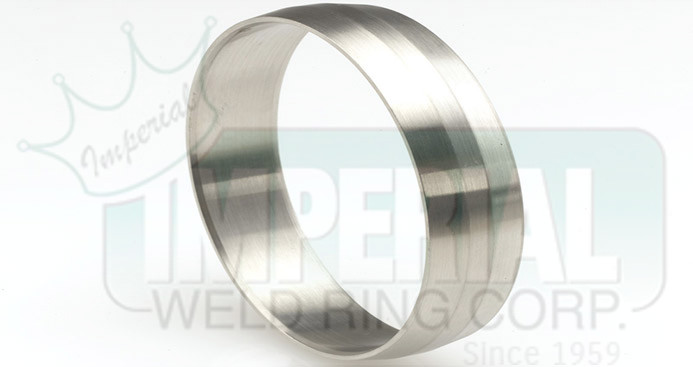 Machined Weld Rings
Imperial Weld Ring manufactures precision weld rings (also known as backing rings or chill rings) in both standard and custom sizes. Our weld rings ensure the proper root gap to allow full weld penetration in pipe or tube welding and expedite the welding process by eliminating the need for manual fit-up or spacer blocks. Machined to ±0.003", this precision fit prevents weld contamination inside of the pipe that could inhibit proper internal flow. We offer multiple standard spacer styles including long removable type spacers that compensate for the highest degree of pipe misalignment, short spacers that are readily consumed in the initial root pass, pressed type spacers that offer a root gap setting without the addition of foreign material and can be furnished on rings of all material types including non-ferrous metals (ex. Aluminum) on which stud welding is ineffective. Rings may also be supplied without spacers ("plain") which allows the welder to have more control over the size of the root gap.
Our custom weld rings can be machined to fit any standard or non-standard pipe or tube dimensions. We offer a variety of profiles that are designed to meet multiple pipe welding applications. Rings can be produced in mild steel, stainless steel, duplex, aluminum, copper-nickel (C71500 70/30, C70600 90/10), chrome-moly, nickel alloys, and titanium alloys to match parent pipe chemical and physical requirements.
Our weld rings are a trusted product and perform in critical applications. Our products meet all applicable industry standards including ASME, ASTM, AWS, Military, nuclear ASME NCA 3800, and OEM specific requirements. For more information about our custom weld rings, see the table below or contact us directly.
Machined Weld Ring Styles
Examples of Our Work
Machined Weld Ring Capabilities
Custom Weld Ring Type

Custom Machined
Materials (Metals)

Carbon Steel
Stainless Steel
Chrome-Moly
Hastelloy
Aluminum
Nickel Alloys
Steel
Titanium
Material Specifications
(Partial Listing)

Commercial Split Types

Carbon Steel

ASTM A109, ASME SA-414, ASTM/ASME A/SA-36
ASTM/ASME A/SA-515 GRADE 70

Chrome Moly

ASTM A182 / ASME SA-182, ASTM A387 / ASME SA-387

Stainless
Aluminum

ASTM/ASME B/SB-209
ASTM/ASME B/SB-211
ASTM/ASME B/SB-221
3003, 5083, 5086, 6061, 6063

Nickel Alloys

Nickel 200, Monel 400, 600, 601, 625, 800, 825, etc.


Machined Rings

Carbon Steel

ASTM A29
C1018
ASTM/ASME A/SA-106
ASME SA-178, ASME SA-210,

Chrome Moly

ASTM/ASME A/SA-335
ASME SA-213

Stainless

ASTM A312, ASME SA-312
ASTM A213, ASME SA-213

Nickel alloys

ASME SB-161, SB-165, SB-167, SB-423, SB-444, SB-729
C-22, C-276, Hastelloy X, Hastelloy W
Inconel
Monel

Aluminum

ASME SB-234, ASME SB-241
ASTM B221, ASME SB-221
3000 Series, 5000 Series, 6000 Series
Manufacturing Methods

CNC Turning
Rolling / Forming
Pressing / Stamping
Rolling Capacity

Thickness: 1"
Width: 8"
Diameter

Rings Manufactured to Fit All Pipe / Tube Diameters
NPS Schedules Stock
Exact Counterbore Dimensions Fit to 0.001"
Tolerance (+/-)

+/-0.003" Machining Tolerance
Production Volume

Prototype
Small Runs
Production / Large Runs
Typical Lead Times Available

Same Day Shipment Available
JIT Services Available
Additional Information
Industry Focus

Steam Generation
Nuclear / Fossil Fuel Power Plants
Ship Building
Construction
Off-Shore Oil Platforms
Structural Pilings
OEM's
Automotive
Transportation
Aerospace
Liquid-Gas Conversion
Industry Standards

Nuclear & Military Work
MIL-I-23413
MIL-STD-22 (Naval)
ISO - 9002
ASA B31.1
ASA B31.3
ANSI/ASME B31.1
ASME B16.25
10CFR 50
10CFR Part21
MIL-I-45208A
Intended Applications

Pipe Welding
Tube Welding
Welding of Fittings
Beam Welding
Plate Welding