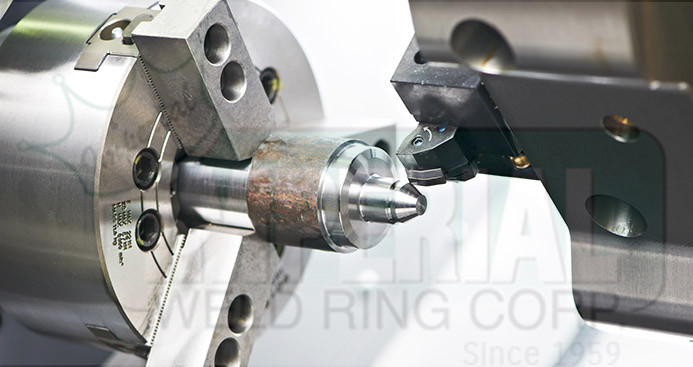 Precision CNC Turning & Machining Services
Imperial Weld Ring offers precision CNC turning services to a variety of industries. We machine precision fittings, machine components, bushings, pins, and other parts from steel, stainless steel, copper, aluminum, nickel, titanium, cobalt, brass, Inconel, Hastelloy, Monel, and other superalloys. Our CNC equipped lathes perform contour turning, taper turning, and straight turning. Additional machining capabilities include threading, tapping, forming, knurling, counterboring, countersinking, profiling, parting, and facing. All tooling is fabricated in-house, allowing us to provide our customers with the high quality, precision parts that meet tolerances as tight as ±0.001". We can turn parts up to 50" in diameter.
In addition to turning, we can provide many value added services including deep hole drilling, milling, engraving, etching, chromate coating, and heat treating. We provide very rapid turnaround times which are quoted on a per job basis but average between two days and two weeks. Rush services are available to customers who need parts immediately. For more information about our CNC turning capability, see the table below, or contact us directly.
Examples of Our Work
Precision CNC Turning & Machining Capabilities
Machining Processes

Contour Turning
Taper Turning
Straight Turning
Threading
External
Internal
Tapping
Threading

Grooving
Knurling
Counterboring
Countersinking
Profiling
Parting / Cutting
Facing
Equipment

Engine Lathes
Turret Lathes
CNC Lathes
Secondary Operation Lathes
Equipment Capabilities

CNC Control Capabilities
Large Swing Lathe
Bar Feed
Milling
Machinery Axis

2
Workholding

Three-Jaw Chuck
Four-Jaw Chuck
Collet Chucking
In-House Fixturing & Tooling
Tolerances

±0.001"
Materials (Metals)

Alloy Steels
Aluminum
Brass
Bronze Alloys
Carbon Steel
Cobalt
Copper
Nickel
Stainless Steel
Titanium
Materials (Exotic & Precious Metals)

Inconel
Molybdenum
Monel
Superalloys
Duplex
Secondary Services Offered

Part Engraving
Drilling
Deep Hole Drilling
Tapping
Bending
Threading

Countersinking
Pressing
Milling
Welding
Chemical Etching
Heat Treating
Production Volume

1 Part Minimum
Low Volume
High Volume
Lead Times Available

Quoted on Job By Job Basis
Emergency / Rush Services Available
Additional Information
Industry Focus

Power Generation
OEM / Industrial
Aerospace
Agricultural
Architectural
Automotive
Chemical
Food
Transportation

Machine Tool
Marine
Medical
Military
Oil Field
Packaging / Converting
Pharmaceutical
Construction
Intended Applications

Machine Components
Turbine Components
Pins
Bushings
Spacers
Fittings
Flanges
Industry Standards

ANSI
ASME
ASTM
AWS
DOT
ISO Compliant
Mil-Spec
NADCAP