Fabricated Low Carbon Steel Weld Ring for Oil & Gas Pipeline Systems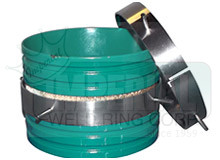 At Imperial Weld Ring, we understand well that oil and gas pipeline system components need to function in harsh and corrosive environments. We kept this knowledge in mind when we fabricated low carbon steel weld rings for oil and gas pipeline systems at the request of a customer. Used in high and low temperature applications, these rings were components of internal sleeves and applied on custom tapered pipe fittings for internally coated pipeline systems. We manufactured the rings to precise tolerances of ±0.005" in custom sizes with an epoxy coating for corrosion resistance and metal studs that ensured proper spacing for the weld joint. We used a series of processes and our open back inclined presses to fabricate the low carbon steel rings (ASTM A109 Temper 4 and ASME SA-36). The rings were slit and cold drawn, sheared, beveled and chamfered, stamped, rolled with custom ring rollers, ground, and resistance spot and stud welded. Secondarily, the rings were degreased, cut with a band saw, deburred, dot peen marked, and then coated with an aluminum oxide weldable primer. Although ring diameters varied, widths of 1.000" and thicknesses of 0.125" were typical. Cold drawn finished, the rings were split into sections upon request, fitted with custom spacers, and custom packaged. The low carbon steel was ASTM/ASME certified, identified with 100 percent heat/lot traceability, and inspected with customer supplied gages. We worked from customer specifications and CAD drawings and made 10,000 weld rings for domestic and international delivery to locations specified by our customer.
We established a synergy with this OEM and continue to meet the demands of its global applications. To find out how we can do the same for you, contact Imperial Weld Ring directly.
Low Carbon Steel Weld Ring Project Highlights
Project Name

Weld Ring
Project Description

Corrosion resistance sleeve component for internally coated pipeline systems. These weld rings are used in high & low temperature applications.
Capabilities Applied/Processes

Primary:
Fabricating
Slitting & Cold-Drawing
Shearing
Beveling / Chamfering
Stamping
Rolling
Grinding
Resistance Spot Welding

Secondary:
Degreasing
Band Saw Cutting
Deburring
Metal Marking
Coating (Aluminum Oxide)
Equipment Used to Manufacture Part

OBI Presses
Dot Peen Marking System
Grinders
Custom Ring Rollers
Spot / Stud Welders
Overall Part Dimensions

Product Diameter: Various Ring Sizes
Product Width: 1.000" Typical
Product Thickness : 0.125" Typical
Tightest Tolerances

± 0.005"
Material Used

Low Carbon Steel
ASTM A109 Temper 4
ASME SA-36
Material Finish

Cold Drawn Finish
Special Features

Custom Spacers
Ring Split into Sections upon request
Custom Packaging
Weld ring can be furnished with beveled OD or beveled ID as specified by customer.
In Process Testing/Inspection Performed

Material Identification
100% Heat / Lot Traceability
Customer Supplied Gages
Industry for Use

Pipe Installation
Oil and Gas
Cement and Mortar
Volume

Approx. 10,000 Annually
Delivery/Turnaround Time

As Required per Customer Specifications
Delivery Location

Domestic and International
Standards Met

Customer Specifications / CAD Drawing
ASTM/ASME Material Certification