Fabricated High Temperature Alloy Consumable Insert for the Nuclear Industry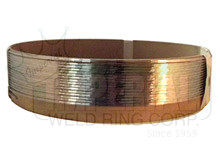 At Imperial Weld Ring, we recently demonstrated our ability to manufacture a custom sized product that fulfilled the stringent requirements of a power generation customer. To up the stakes, this high temperature alloy consumable insert was fabricated to rigorous nuclear quality assurance requirements, which even included on-sight inspections and audit procedures. After we designed the tooling, we used our custom-tooled roll formers, wire winders and straighteners, as well as metal shears to draw the 0.156" diameter weld wire per MIL-E-21562D, AM. 7, 1, Type EN/RN62. Spooled to various diameters, the wire was 0.044" wide and 0.150" thick. Then we employed our optical comparator, precision gauges, and testing instruments calibrated to MIL-STD-45662 to inspect the dimensions of the wire, which was finally finished to 63 grit. Subsequently, the wire was fit into a custom shaped profile with precision tolerances of ±0.002 wide by ±0.002 to 0.003" thick and TIG welded. This 500-lb. fabrication was done to ASME SECTION III, NQA-1, 10 CFR 50 Appendix B standards and delivered to this domestic customer in only two weeks.
Imperial Weld Ring refused to shy away from a project like this that had to be done to meticulous quality assurance requirements and nuclear standards. To find out more about us, please contact us directly.
High Temperature Alloy Consumable Insert Project Highlights
Project Name

Consumable Inserts
Project Description

TIG weld wire shaped to custom cross section
Capabilities Applied/Processes

Primary:
Wire Drawing
Inspection
Tooling Design

Secondary:
Precision Gauges, Measuring, and Testing Instruments Calibrated to MIL-STD-45662
Equipment Used to Manufacture Part

Custom-Tooled Roll Formers
Wire Winders
Wire Straighteners
Metal Shears
Optical Comparator
Overall Part Dimensions

Product Diameter: Spooled to varies diameters
Product Width: 0.044"
Material Thickness: 0.150"
Tightest Tolerances

0.044" +/- 0.002" wide x 0.150" +0.003/-0.002" thick
Material Used

0.156" Diameter weld wire per MIL-E-21562D, AM. 7, IC. 1, Type EN/RN62
Material Finish

63 Grit
In Process Testing/Inspection Performed

Successful Completion of QA Audit for Nuclear Requirements
Dimensional Inspection
Industry for Use

Nuclear Power Generation
Volume

500 lbs.
Delivery/Turnaround Time

2 Weeks
Delivery Location

USA
Standards Met

ASME SECTION III, NQA-1, 10 CFR 50 Appendix B